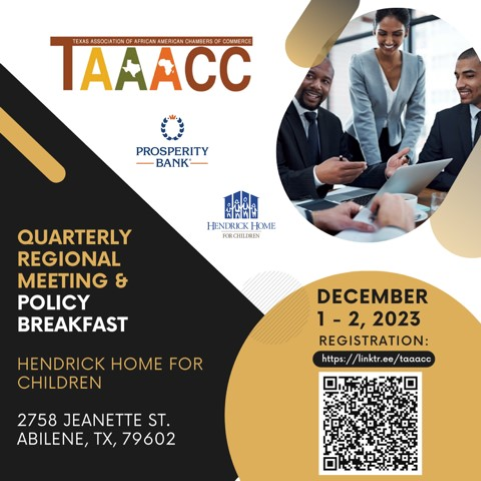 TAAACC Quarterly Regional Meeting & Policy Breakfast
December 2 @ 9:00 am - 2:00 pm
Texas Association of African American Chambers of Commerce (TAAACC) will be having their quarterly regional meeting and policy breakfast in Abilene.
December 1, opening reception at Hilton Garden Inn located at 4449 Ridgemont Dr., Abilene, TX 79606 from 6:00 PM to 9:00 PM
December 2: Policy breakfast, opening, workshops and lunch at Hendrick Home for Children from 9:00 AM to 2:00 PM.  Doors open at 9:00 AM and welcome is at 9:30 AM.
The event is open to all community businesses, local leaders and supporters of black businesses.
Please scan the QR code on the flyer to register or contact the Abilene Black Chamber of Commerce for more information.
A special thank you to our lunch sponsor:  Prosperity Bank